(KAUA'I, Hawai'i) – Fueled by four players who finished in the top 10 of a 126-player field, Brigham Young set a new 54-hole team scoring record (810) to win the 2023 John A. Burns Intercollegiate on Kaua'i. The Cougars dominating performance shattered Auburn's former scoring record that held for 15 years.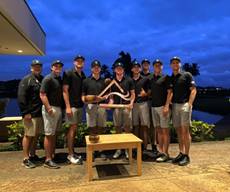 "Playing 27 holes on consecutive days meant anything could happen," said Bruce Brockbank, BYU's legendary head men's golf coach who now has 59 tournament wins to his name across 31 seasons in Provo, Utah. "Our driving accuracy and short game precision were off the charts. It was very rewarding to watch these young men put it all together for a victory in Hawaii."

BYU built upon their second-round lead of 10 strokes over Arizona to win the program's fourth Burns team title (1977, 2000, 2007, 2023). Their 54-under total score was anchored by fifth-year senior Carson Lundell (T3), a 2021 All-American Honorable Mention, as well as Hawaiian-born Keanu Akina (5), David Timmons (T10) and Tyson Shelley (T10).

No. 19 Arizona (-36) now has two runner-up finishes in 2023, including at last month's Thunderbird Intercollegiate. No. 9 Texas A&M (-32), No. 53 California (-27) and No. 20 San Diego State (-24) rounded out the top five.
Sam Bennett, the reigning U.S. Amateur Champion and 2022 SEC Golfer of the Year, shot 61 with 11 birdies and no bogeys to earn a share of the individual title. He tied the Burns tournament record set yesterday by Long Beach State's Ian Gilligan. During last year's final round on Kaua'i, Bennett set the Ocean Course at H?k?ala course record (64) en route to a second place finish.

California junior Sampson Zheng enjoyed three birdies and one eagle over his final six holes to claim his first collegiate win. Zheng broke into the winner's circle after coming in second place in the 2022 Alister Mackenzie Invitational.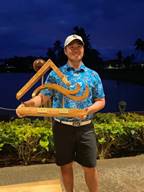 In a unique situation, tournament officials declared Zheng and Bennett co-winners due to a lack of daylight remaining for a playoff, as well as the chance of rain on Saturday.

Following Aaron Du's 2022 Burns individual victory, the Golden Bears have now claimed back-to-back individual medalist honors on the Garden Isle. Cal has tied New Mexico for most individual medalists in tournament history.

All team and individual scores are listed on Golfstat.

Next on the schedule for host school Hawai'i, the Rainbow Warriors will travel to Palm Desert, Calif. to compete in the Wyoming Desert Intercollegiate on March 1 – 3.

Team Leaderboard
| | | | | | | |
| --- | --- | --- | --- | --- | --- | --- |
| Place | School | To Par | Rd. 1 | Rd. 2 | Rd. 3 | Total |
| 1 | Brigham Young | -54 | 273 | 271 | 266 | 810 |
| 2 | Arizona | -36 | 278 | 276 | 274 | 828 |
| 3 | Texas A&M | -32 | 286 | 279 | 267 | 832 |
| 4 | California | -27 | 277 | 288 | 272 | 837 |
| 5 | San Diego State | -24 | 292 | 279 | 269 | 840 |
| 6 | Long Beach State | -20 | 278 | 284 | 282 | 844 |
| T7 | New Mexico | -19 | 282 | 282 | 281 | 845 |
| T7 | Utah | -19 | 288 | 284 | 273 | 845 |
| 9 | Southern California | -17 | 294 | 274 | 279 | 847 |
| 10 | Texas El Paso | -16 | 282 | 282 | 284 | 848 |
| 11 | Fresno State | -15 | 284 | 281 | 283 | 849 |
| 12 | Grand Canyon | -13 | 287 | 276 | 288 | 851 |
| 13 | Santa Clara | -12 | 283 | 293 | 276 | 852 |
| 14 | UNC Wilmington | -11 | 295 | 278 | 280 | 853 |
| T15 | Washington State | -8 | 294 | 283 | 279 | 856 |
| T15 | UNLV | -8 | 296 | 282 | 278 | 856 |
| 17 | Nevada | -6 | 286 | 292 | 280 | 858 |
| 18 | Sacramento State | -1 | 283 | 285 | 295 | 863 |
| T19 | St. Mary's (CA) | E | 287 | 294 | 283 | 864 |
| T19 | Loyola Marymount | E | 297 | 285 | 282 | 864 |
| 21 | Hawai'i | +3 | 288 | 296 | 283 | 867 |

Top Individuals
Place
Player
School
To Par
Rd. 1
Rd. 2
Rd. 3
Total
T1
Sam Bennett
Texas A&M
-18
70
67
61
198
T1
Sampson Zheng
California
-18
65
68
65
198
T3
Carson Lundell
Brigham Young
-17
70
63
66
199
T3
Ian Gilligan
Long Beach State
-17
61
71
67
199
5
Keanu Akina
Brigham Young
-14
66
67
69
202
T6
Julien Paltrinieri
Santa Clara
-13
71
69
63
203
T6
Matthew Manganello
Fresno State
-13
68
70
65
203
T6
Tiger Christensen
Arizona
-13
67
71
65
203
9
Shea Lague
San Diego State
-11
70
71
64
205
T10
Tyson Shelley
Brigham Young
-10
71
69
66
206
T10
Braxton Watts
Utah
-10